About Flyball
Flyball is a fast exciting sport for dogs. Any breed of dog can do flyball, with the two main requirements being they show no signs of agression to other dogs and they are ball motivated.
Flyball is a race between two teams of 4 dogs. Each dog hurdles 4 jumps to a ball in a spring loaded box which is 51 feet from the start/finish line. The dog triggers the box, catches the ball and returns down the 4 hurdles. The next dog can cross the start line as the previous dog crosses the finish line. The process is repeated until all 4 dogs have retrieved a ball and completed all the jumps.
The British Flyball Association govern flyball in the UK. Licenced shows are held across the country throughout the year. Dogs and handlers must be registered with the BFA to compete.
Teams also have to be registered with the BFA. Competitions consist of divisions of six teams who are graded based on their current fastest time (seed time). With the six fastest teams running in division 1, next 6 teams in division 2 etc
Flyball

Kiddy Monsters Flyball Team are members of the British Flyball Association. They were formed in 2006 after competing as a team within Wolf Pack during 2005. The team run under four team names;
Kiddy Monsters
Kiddy Minsters
Kiddy Minxs
Kiddy Minors
As we train a number of dogs and compete on a regular basis. Each team name represents the speed of the dogs running at a particular show. With Monsters being the fastest team and Minors the slowest. Under BFA rules each team is allocated a seed time which is the fastest they have run over the last three shows or fastest within the last four months.

We compete throughout the year at venues in England and Wales at BFA registered shows, and Crufts qualifiers. Our seed times vary from 17.69 up to 21.84. This enables all our dogs to run in shows as we enter the appropriate team based on the dogs running. In 2009 we competed in 19 shows, including the European Championships, the British Championships and Crufts. We won won four divisional titles and came second on five occassions.

In the European Championships we finished 6th overall from over 70 teams across Europe. Racing in the top division we competed with the best teams in Europe, only missing out on a top 4 place in a last leg decider against the Lucky Jumpers.

All training is designed around you and your dog having fun. An ideal flyball dog is fast, has a good temprament and is ball motivated. Most of our top dogs got started by having a go, the handlers soon saw how much their dogs enjoyed the flyball and were hooked.

Click Euro flag to see Kiddy Monsters racing in Belgium.
Flyballers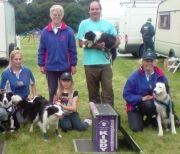 Crufts Team 09/10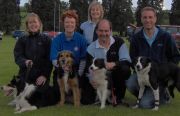 Crufts Team 07/08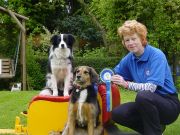 Chelsea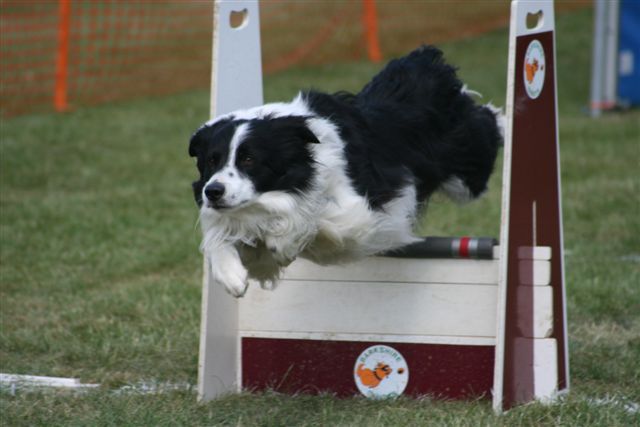 Spot